National consulting hotline:
Free proofing is available for consultation by appointment
Popular Articles
Contact Us
Service Hotline
13632675935
CRF
Address: 1303, Building 3, Manjinghua Science and Innovation Workshop, No.6 Songjiang Road, Songgang Street, Bao'an District, Shenzhen, China.
Do you know which scenarios commonly used plasma cleaning machines in industry can be applied in?
Keywords:
Plasma cleaning machine
Published on:
29 Sep,2023
  Plasma cleaning machines are widely used in various fields, from new energy technology to household appliances, from precision machinery manufacturing to medical clinical research, and later dyeing and weaving. Many of the things we use in our daily lives have been processed by plasma cleaning equipment, but we have not gained a deep understanding. Plasma cleaning technology is widely used in industries such as automotive manufacturing, semiconductor packaging, precision mechanical manufacturing electronics, medical clinical research, optoelectronic production, new energy technology, dyeing and weaving, packaging containers, household appliances, and so on. Plasma cleaning machines are widely used. Do you know what its effects are?
  1. Surface cleaning effect
  The vast majority of items have organic chemical pollutants on their surface that cannot be seen by our eyes. Compared to ordinary items, certain pollutants do not immediately interfere, but compared to certain precision mechanical manufacturing electronic products, surface organic compounds will immediately interfere with the reliability and stability of subsequent use of the product. At this point, precision mechanical manufacturing machines such as plasma cleaning equipment must be used to deeply clean the surface of the item, in order to improve its product performance and stabilize its quality.
  For example, the various electronic devices we use have motherboards with connecting cables. The motherboard is made of conductive copper foil, epoxy resin, and adhesive. If the attached motherboard wants to connect circuits, it must drill certain circuit holes on the motherboard and then copper plating. Some adhesive residue will remain in the middle of the micropores, as there will be adhesive residue peeling off after copper plating. Even if there was no peeling at the time, there would still be short circuits due to excessive temperature during use. Therefore, these adhesive residues must be removed.
  2 Surface activation effect
  Some materials have a relatively low surface layer, making it difficult for the material and ink to combine, which is not conducive to printing and coating. The use of a plasma cleaning machine can effectively solve this problem. After the plasma cleaning machine processes the material, it can break the molecular bonds on the surface of the material, form new materials, improve the adhesion of the ink, and effectively solve problems such as printing and coating.
  3. Surface etching effect
  Some materials have a very smooth surface, and when adhesive is used to bond with each other, it is often not firm or durable enough, seriously endangering product quality. The plasma cleaning machine can process the surface of materials, achieve concave etching effect, improve the adhesion and durability between materials, and significantly improve the product's good rate and quality.
  4. Coating efficacy
  The typical function of a surface coating is to form a protective layer on the surface of the material. Plasma cleaning equipment is mainly used for fuel containers, scratch resistant surfaces, coatings similar to polytetrafluoroethylene (PTFE) materials, waterproof coatings, etc. The surface coating effect of the plasma cleaning machine not only protects the material, but also forms a new layer of material on the surface, improving the post bonding and printing process.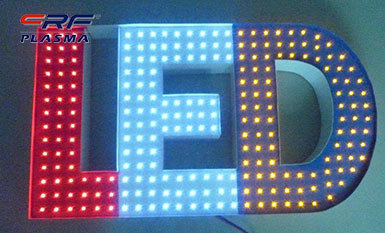 Hot Products